Beaches
The Cayman Islands are known for their beautiful white sand beaches and calm, clear waters. Seven Mile Beach on the west side of the Island is the most famous but there are many beaches to discover around the Island, including Rum Point, Smith Barcadere and of course the beach at the Reef Resort, at the very site of the Mercuryman Triathlon. All the beaches are free and public up to the high water mark.
Snorkelling and Diving
Many diving and snorkelling sites are accessible from shore all around the Island, including near the dock at the Reef Resort.
Stingray City and Sandbar
The most famous tourist attraction on Grand Cayman. Interact with the gentle, majestic Southern Stingrays in a wild environment.

Arts and History
Arts and history enthusiasts should not miss Pedro St. James Castle, the National Art Gallery, the National Museum, the Bodden Town Guard House, Wreck of the Ten Sails Monument and a visit to George Town (including Heroes square and Fort George)
Natural Attractions
Queen Elizabeth II Botanical Gardens, which also houses the Blue Iguana Recovery Programme. Hike the Mastic Trail to see native vegetation and the Cayman Green Parrot.
Animal Encounters
Boatswain Bay/Turtle Farm in West Bay provides an opportunity to see turtles up close and provides many activities geared towards kids. Visit Dolphin Discovery or Dolphin Cove to swim with dolphins.  Observe green iguanas at Bel Air Park (free!) (1/4 mile down Bel Air Drive, off South Sound Rd). See beautiful Starfish at Starfish Point (Kaibo)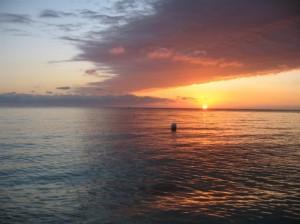 Active pursuits
Kayaking in the Kaibo mangroves or along Seven Mile Beach; parasailing over beautiful Seven Mile Beach; Kiteboarding in Barker's Park or Kaibo, Stand-up Paddleboarding, golfing, deep sea fishing and horseback riding
For Kids
Kids will enjoy interacting with turtles at Boatswain's Beach, cruising on the Jolly Roger pirate ship, visiting Pirate Caves in Bodden Town, playing in the shallow waters at Rum Point, skateboarding at the Black Pearl Sake Park, seeing fish on the Atlantis submarine and watching iguanas at Bel Air Park. For the little ones, there are a number of free parks with play structures around Grand Cayman, including Dart Park in South Sound and Coe Wood in Bodden Town.

Together for Tourism
The Cayman Islands Tourism Association (CITA) membership is comprised of over 200 hotels, condos/villas, allied, watersports, attractions, transportation and restaurant members. It was formed in March 2001 through an amalgamation of the Cayman Tourism Alliance and the Cayman Islands Hotel and Condominium Association. The association is wholly funded by membership subscriptions and fundraising. CITA actively promotes the continuing improvement and development of Cayman's tourism Industry through the exchange of information, Government relations, training and education, marketing, and events. The CITA supports the Mercuryman Triathlon and is a valuable asset to our "sports tourism" sector. For more information please visit our website at www.cita.ky or info@cita.ky or 1-345-949-8522. Welcome to the Cayman Islands.